Whatever I am today is just because of my mother Zeba Bakhtair said Azaan Sami Khan
Submitted by admin on Thu, 09/05/2019 - 22:53
Whatever I am today is just because of my mother Zeba Bakhtair said Azaan Sami Khan
Azaan Sami Khan is a celebrated Artist of Pakistan who has worked as a Producer, As a Music Composer as well as an Assistant director. Soon he is going to be seen as an actor too which he always wanted to be. He was born on 22nd May 1993 in Karachi where he spent his early life. Later he moved abroad where he completed his education and returned back to his country.
Currently, he resides in Karachi with his family. He did his Schooling from Karachi, For higher studies he went abroad from where he obtained his graduation degree from Belmont University in Nashville, Tennessee. He came back to Pakistan and started working as a Music composer which he always wanted to. He belongs to a polished and acknowledged family where his father Adnan Sami is an internationally prominent singer while his mother Zeba Bakhtiar is a prominent Pakistani actress who is considered to be one of the most beautiful Pakistani actresses yet. His parents got divorced when he was quite young so he has been brought up by a single parent.
Career as a Producer:
He kicked off his career as a Co-producer in 2014 by co-producing a lollywood movie 'O21' starring Shaan Shahid, Aamina Sheikh and Shamoon Abbasi. The film was produced in 'One motion picture' production house which is owned by his mother Zeba Bakhtiar. He was also the co-writer of this film. The film earned the collection of more than 5 crores at the box office. After his debut in Showbiz he took a break for few years from the industry. 
As a music composer:
He made his debut as a Music composer in 2018 by composing all the songs of movie 'Parwaaz Hai Junoon' starring Hamza Ali Abbasi, Hania Amir and Ahad Raza Mir. The film became one of the most successful films of all time. After his debut as a Music Composer, he has also compose the music of 2 other Pakistani movies including 'Paray Hut Love' starring Maya Ali and Shehryar Munawar' and 'Superstar' starring Mahira Khan and Bilal Ashraf.
As an Assistant Director:
He made his debut as an Assistant director in 2019 Bollywood movie 'Kalank' as an assistant director. The film starring Alia Bhat, Varun Dhawan, Aditya Kappor, Sonakshi Sinha, Madhuri and Sanjay Dutt.
Relationship with father: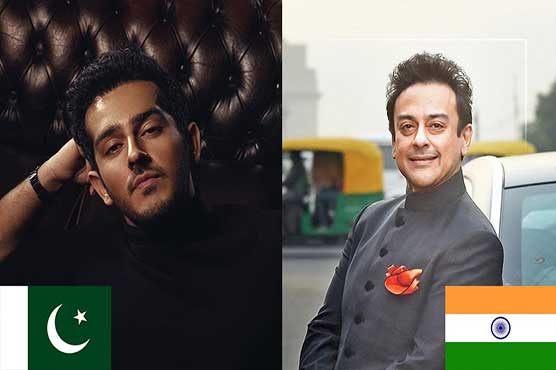 Azaan Sami Khan during an interview shared that he has a strong relationship with his dad Adnan Sami. His father has always been there for him. His father is more like a friend to him. He looks toward him more as a mentor than a parent. Azaan won't speak ill about his father publically. According to him, he made his own choice and as a kid, he respects his decision.