Earth quake 19 kills ,300 and more injures in Mirpur Azad Kashmir
Submitted by admin on Tue, 09/24/2019 - 18:06
 Islamabad (INP): 5.8 magnitude earthquake has been felt in different parts of the country including Islamabad and Azad Kashmir, killing 19 people including a girl in Azda Kashmir while 300 and more people including women and children were injured in a building collapse. Done, according to the epicenter, the epicenter was 12 km north of Jhelum and 10 km deep underground, while the magnitude of the earthquake was recorded at 8.5 degrees.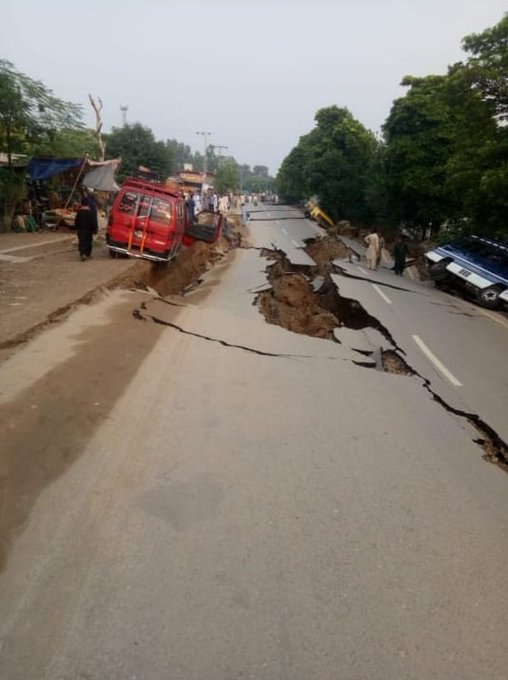 Kalima came out of the houses and offices while wearing a uniform. Many people, including women and children, were injured due to earthquake in Mirpur Azad Kashmir earthquake. Rescue teams arrived on the spot as soon as the building collapsed and local people were shifted to the hospital with the help of locals. It is reported that at least 50 people were injured in the collapse of the building.
According to sources, Lahore, Islamabad, Rawalpindi, Sheikhupura Hafizabad, Chiniot, Jalalpur, Bajaur, Mirpur, Okara, Manga Mandi, Nowshera, Malakand, Zafar Wal, Pand Dadan Khan, Faisalabad, Gujrat, Kasur, Daska, Bagh. Severe quakes were also felt in Azad Kashmir, Skardu, Kamcar and Mirpur Khas, Kohat, Mardan, Nowshera, Charsadda, Buner, Malakand, Swat, Shangla-Deer and Chitral. According to Indian media, the capital city of New Delhi and occupied Kashmir. Heavy earthquakes were also felt in the areas. In India, the magnitude earthquake was recorded at 6.1.